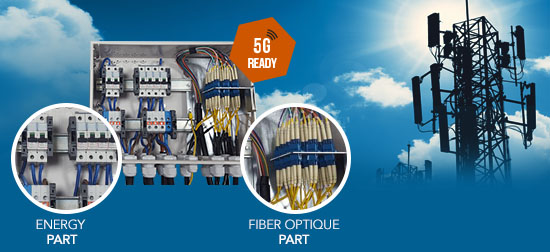 Do you need to save time on your aerial infrastructure ?

Choose the new PANAMA hybrid HTTA-PTTA wall box.
Particularly compact and lightweight, the PANAMA HTTA-PTTA wall box facilitates the link between RRUs (Remote Radio Unit) and the BBU (BaseBand Unit).
It is available in 3 configurations:
– FTTA (Fiber To The Antenna) – Fiber only
– PTTA (Power To The Antenna) – Power only
– HTTA (Hybrid To The Antenna) – Fiber and power
It also ensures the power supply of RRUs thanks to 2 different zones: one to manage fiber, the other to handle energy.

The « energy » part can receive circuit breakers and electrical terminal blocks. In the « fiber » part, connection operations are easy to perform in direct connectorisation thanks to an adapter plate receiving up to 24 fibers (12 LC Duplex adapters), as well as a coiling area.
Discover the new advantages of this new wall box :

The general caracteristics :

Dimensions (LxPxH) : 400 x 180 x 300 mm
Adapters type : 12 SC / 12 LCD
Fixation : Wall-mount, pole-mount (option)
Material/finish : ABS PC
Weight (equipped box) : 6 kg
Closing : Key-lock (1242E type)
Accessories provided : 1 wall-mount fixation kit, 2 x M25 cable glands with multi-hole seal (24FO version) 1 comb et 4 comb end-protections
Options availables : Pole-mount fixation kit
Protection : IP55
Impact protection : IK10
Order your PANAMA box